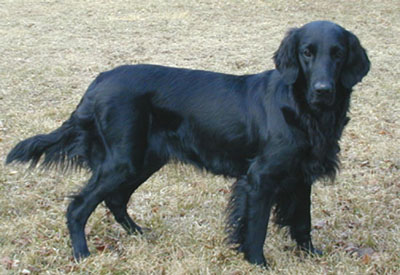 Dory was our first flat-coat and our foundation bitch. She was (aptly) named for the tough, sleek work boats of the North Atlantic. She had a sweet, lovely temperament and a quiet elegance. She truly was a joy to live with!

She was shown in the breed ring and had a few notable successes, particularly at local supported entries. She also worked in obedience and field....but field was always her favorite. She also had the opportunity to hunt with Ciff and, in that, found her true calling. She was a natural, especially on pheasant...a trait that she passed on to her son.

She had two litters before we lost her to cancer. Surf here to see what the FCRSA is doing about it. First flat-coats are always the most special but we truly do miss her every day, even now.